At the end of November 1959, Nankoku visited the United States of America as his first trip to the foreign country.  His stay in the United States lasted for one year and five months until April 1961. He was scheduled to stay there further, but due to his wife's (小葩) illness, he returned home in a hurry.
Intermezzo (Interlude)
As the standard-bearer of the avant-garde calligraphy, Nankoku's activities had been attracting remarkable attention before he went to the United States. In 1959, he was selected as the exhibitor along with Shiryu Morita at the 5th São Paulo Biennale. He moved to the United States at the end of that year and held his one-man show in New York in January 1961. At a time when Japanese artist's activities abroad were rare, there was exceedingly great interest in the world of Japanese calligraphy and art regarding Nankoku's activities in the U. S. When he returned to Japan in June 1961, the radio interview in New York titled "Mr. Nankoku's calligraphic activities in the United States" was reported in "Calligraphy Art No. 7 " (Japan Calligraphy Art Institute). Nankoku himself wrote an article in 'Nihon Keizai Shimbun' dated June 16, 1961 , titled ""American Calligraphy Life: Expressions No Less Than Orientals" (Partly in Nankoku Report Vol.15  Nankoku, Going to the U.S.A (1).  On July 18, the Tokyo Shimbun carried an interview titled "Line Expression Doesn't Need Meaning – Nankoku Hidai Teaches Avant-Garde Calligraphy in the U.S."  And Nankoku wrote an essay in the Asahi Shimbun on August 1 titled "Midsummer's Ink Form –Kappa (Water imp) Country".  The whole text of "Kappa (Water imp) Country " is introduced in Nankoku Report Vol. 1 .
For making use of his revisit to the U.S.,  Nankoku continued to write "The Art of Calligraphy" with Mrs. Elise Grilli, a critic for the Japan Times, and wrote letters to persons whom he had gained the acquaintance with in the U. S.  At the end of 1961, his first one-man show was held at Muramatsu Gallery in Ginza (December 1-5).  Nankoku's works changed dramatic much in 1961, after returning to the U.S. The former dynamism of the thick lines with the blurs went out and the reduced thin lines and dots were left like meteoric traces in the white space. However, these new works are never fragile, and the exquisiteness of the expression of thin lines (Hitsu-I) powerfully controls the space. Life in the United States made Nankoku break with pretension and eagerness, and  made him create works in which he could express himself honestly at the heart.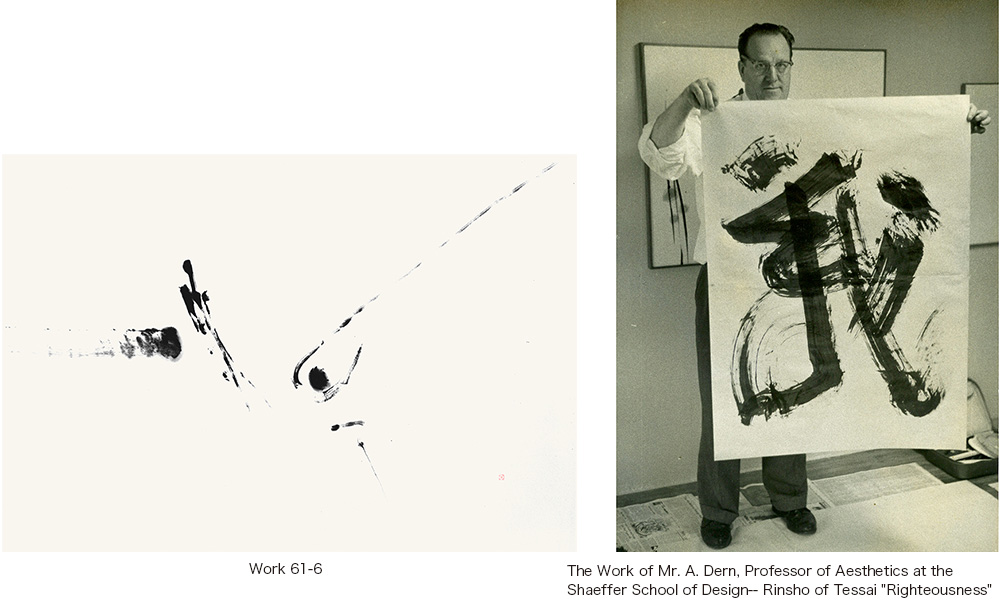 At the same time, Nankoku held the exhibition of works by American artists and citizens whom he taught at San Francisco.  The American who did not know the Chinese character and its meaning at all showed a wonderful line expression, and their works impressed the calligraphers in Japan.
From January 23 to 28, 1962,  he held " Tenrai Igyo-ten" (Exhibition of Tenrai Hidai's Works and Legacy) at Nihonbashi Takashimaya, hosted by "Shogakuin Dojinkai"( Shogakuin Members Group). Tenrai had been dead for 23 years, so Nankoku and Dojinkai organized the exhibition that praised the achievements of Tenrai, who had advocated the artistry of calligraphy and insighted into even the possibility of "Ink Form", as well the exhibition presented today's calligraphy art that succeeded to Tenrai's will and developed diversely .
Educator Nankoku
From April 10 to June 19, 1962, Nankoku opened the "A Class on Calligraphy for Westerners" at 'The International House of Japan' in Azabu Toriizaka. The class was scheduled once a week, from 3:00 p.m. to 5:00 p.m. on Tuesdays, or from 7:00 p.m. to 9:00 p.m. intended for Western artists living in Japan.
1st time

April 10

Lecture:

Outline of the art of calligraphy and Summary of the history of calligraphy

Practice:

Basic training of brush stroke (1)

2nd time

April 17

Lecture:

Tools for calligraphy (brushes, grinding-stone, etc.)

Practice:

Basic training of brush stroke (2)

3rd time

April 24

Lecture:

Materials for calligraphy (paper, ink, etc.)

Practice:

Basic training of brush stroke (3)

4th time

May 1

Lecture:

How to choose models (copybooks) for study

Practice:

Structure of Kanji (Chinese character) (1)

5th time

May 8

Lecture:

Development of styles of Kanji

Practice:

Structure of Kanji (2)

6th time

May 15

Lecture:

Development of technique for brush stroke

Practice:

Study classic model style (square style 楷書)

Ou-yang Xun  (557-641 Early Tang Dynasty)

Yan Zhen-qing (709-785 Late Tang Dynasty)

7th time

May 22

Lecture:

Discrimination between correctness and error, discrimination between cleverness

and simplicity

Practice:

Study classic model style (early square style or clerical style 隷書)

Sozen-hi (cao quan bei ) (monument  A.D.185  Later Han Dynasty)

Sekimon-syo(shímén song) (monument  A.D.148 Later Han Dynasty)

Hokaku-syo (monument A.D.172  Later Han Dynasty), etc.

8th time

May 29

Lecture:

Various types of mounts for calligraphy (lining, etc.)

Practice:

Study classic model style (Seal-style)

 Characters inscribed on oracle bones and tortoise shells (1800-1100 B.C. Shang-Yin 商-殷)

Inscription on old bronze vessels (1800-770 B.C. Shang-Yin, Xī Zhōu (西周 [copper ware])

Inscription in Qin Dynasty (Chin-seal style 221-206 B.C.)

9th time

June 5

Practice:

Study classic model style (cursive style 草書 and semi-cursive style 行書)

Kukai (774-835  Heian era)

Michikaze Ono (896-966 Heian era)

Yukinari Fujiwara (972-1027 Heian era)

Wáng Xīzhī (王 羲之) (307-365?  Eastern Jin)

 Su Dongpo( Sū Shì ) (1036-1101 Northern Song)

Other Japanese and Chinese calligraphy masters

10th time

June 12

Lecture:

 Essence of calligraphic art

Practice:

Free interpretation of diverse styles (1)

(Using various materials and tools)

11th time

June 19

Lecture:

Overview of Modern Calligraphy

Practice:

Free interpretation of various styles (2)

Creative performance

(1) Textbooks, paper, brushes, ink, etc. may be purchased in class at cost prices.

(2) Special tools will be lent by instructor.
 This "Calligraphy Class for Westerners" where Nankoku made the best use of English, lectured on the history of calligraphic culture, and practiced various lessons was devised to make the contents of the class at the Rudolf Schaeffer School of Design in San Francisco more easy to understand, so it was very popular with Western students . The aspect of
Nankoku as educator, which Anne O'Hanlon 
accurately pointed out, was surely to intend connecting the study of calligraphy inherited from his father Tenrai to education and spreading a correct understanding of the essence of calligraphy.
 Nankoku received letters of requests for exhibitions from overseas in succession. In April 1962, Brandeis University (in Waltham, Massachusetts) requested the another exhibition of "4,000 years of Oriental Calligraphy" at Mi Chou Gallery. And Exhibition of "Sinn und Zeichen, Kalligraphien Japanischer Meister der Cegenwart" (Meaning and Symbol, Masters of Contemporary Japanese Calligraphy) (Darmstadt, Augsburg, Berlin in West Germany). From 1962 to 1964, he toured the United States for the exhibition of "Japanese Contemporary Sumi Painting". And also from November 1962 to January 1963, his three works of "Works 60-B, 60-C, 60-D" were exhibited at the "Recent Acquisitions: Painting and Sculpture" at the Museum of Modern Art (MoMA) in New York. This exhibition also featured works by celebrated artists such as Georges Black, Cézanne "Mont Saint Victoire (1900-06)", SamFrancis, Matisse "Music (1907)" and Milo, Henry Moore and Ad Reinhardt. And in 1963, he exhibited works at the exhibition of "Schrift und Bild —Art and Writing" in the Netherlands and West Germany (Amsterdam in Netherlands from May to June, and Baden-Baden in West Germany from June to August).